3 Reasons Why Sustainable E-Waste Management is the Way Forward
Drastic increment in e-waste resulted in the need for e-waste management for the health of our planet. According to a UN report, the world produced as much as 50 million Tonnes of electronic and electrical waste (e-waste) a year, weighing more than all commercial airliners ever made. Unfortunately, only 20% of this is formally recycled.
E-waste management is the proper disposal of discarded electronic products that are later reused or recycled. The technology-oriented generation of today is more susceptible to the production of e-waste. It contains various toxic components that can prove harmful to life as they contain substances like mercury, lead, beryllium, cadmium, and lithium. All these elements harm humans, possibly leading to the brain, heart, liver, kidney, and to an extent, skeletal damages.
Sustainable E-waste Management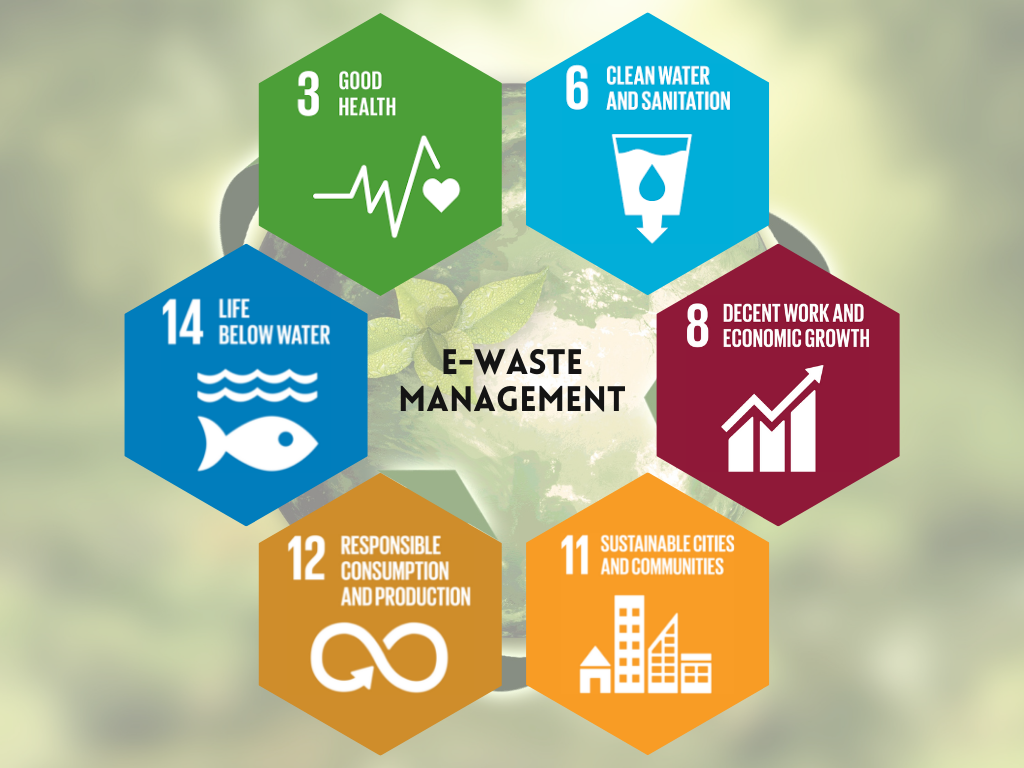 Sustainable e-waste management is an essential concept in the circular economy approach. Apart from clarifying many of the problems, it creates opportunities, namely:
Economic Opportunity
Social Opportunity
Environmental Opportunity
The Economic Benefits of E-Waste Management
E-waste Management involves collecting, sorting, treating, recycling, and, when appropriately managed, a source of energy and resources. Economic opportunities have been on the rise, and people have benefited from an increase in job openings.
Source Of Employment
E-waste management has a positive impact on the economic system by producing a dependable supply of employment. It calls for various human resources to perform the recycling tactics, which guarantees reliable jobs to many professional humans and helps the economic system.
Cost Minimization
Without the e-waste recycling tactics, maximum digital waste is dumped in landfills that aren't ample in all countries. As a result, the scrap is shipped to landfills in remote places, incurring heavy prices of control and transportation. With the emergence of e-waste management centers, the domestic cost can be saved and may also lessen the burden on foreign countries where the scrap was supposed to be dumped.
Monetary Incentives
There has been a lot of stress by environmental companies worldwide on electronics producers. The producers provide monetary incentives to e-waste recycling centers through shopping for the antique electronics product that involves them in massive quantities. Also, it enables reducing the cost of raw material on the manufacturer's end. Consequently, the price of the very last product becomes more affordable, enhancing the ordinary person's standard of living.
Resource Conservation
The e-waste recycling process additionally makes the scarce sources available to producers that not just helps sustainable improvement but further reduces the load on a country's economic system. This additionally averts the extraction prices of mining and processing the extracted minerals and uncooked substances.
Energy Efficiency
The e-waste management process is much more energy-efficient in comparison to the mining of the raw materials itself. It is less costly and more environmentally friendly.
Provides Good Business Opportunities
E-waste recycling may be a fantastic enterprise opportunity as there aren't many e-waste recycling centers globally yet. You can be the only one to provoke a facility in your city, which might earn you blessings withinside the shape of each incentive and raw materials. It is a genuinely fantastic assignment that is certain to prosper, specifically if you are making plans to begin one in a developing country. Those recycling tactics have greater scope in those budding international locations with each source and human resources to make it feasible.
The Social Benefits of E-waste Management
Improvement in e-waste management leads to a better livelihood for the local population as the hygienic conditions improve. There is a drastic increase in health risks in the past due to illegal dumping and inadequate garbage collection.
Recycling items or purchasing previously used or recycled items allow the earth to replenish itself. This, in turn, provides us with the opportunity to become healthier in our environments.
The Environmental Benefits of E-waste Management
The main advantage of sustainable e-waste management is to lessen the impact on the environment because it helps improve the air and water quality and thereby contributes to a reduction in greenhouse gas emissions.
The Circular Economy Approach
The circular economy approach is a systematic way of economic development designed to benefit society, businesses, and the environment. By considering the production processes, the outline of the reuse, repairing, and recycling of items are taken care of, which helps increase sustainable manufacturing and consumption, which is the need of the hour. Taking care of harmful elements could also help reduce greenhouse gas emissions.
Using a circular economy model approach can pave a way that proves less harmful to the environment, thus saving humankind directly or indirectly. Moving on this path would help reduce pressure on the environment, improving the security of the supply of the raw materials by stimulating innovation, and not last, the increase in the number of people who are offered work. Consumers are provided with much better innovative and durable products, which help them save their money for the long term.
To conclude, using acceptable and better methods where there is less emission of harmful gases and less harm to the environment, human life would do a world of good and make the earth a better place to live. E-waste management must therefore take place with proper disposal of unrecyclable particles and elements. The circular economy is a vital component in this. It takes care of many such aspects, which help reduce waste and help reduce pollution in the atmosphere, specifically water and air pollution. It even helps by creating social and environmental opportunities.
We will surely see the circular economy growing over the coming years. People have been understanding and keeping themselves informed about waste product recycling and reusing methods that will significantly impact the future.
GreenTek Reman is one of the leading IT Asset Disposition & e-waste Management companies in India. With a decade worth of experience in the Reuse, Recycling, and Recovery of precious resources from electronic waste, we provide IT Asset Disposition (ITAD), Data Sanitization, Precious Metal Recovery (PMR), Solar Panel Recycling (SPR), and Product & Equipment Destruction (PED) services to our customers across the country.